Location and Hours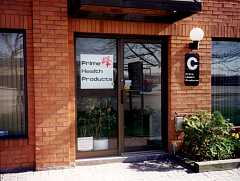 Our Address:
Prime Health Products
133 The West Mall, Unit 8
Toronto, Ontario
Canada M9C 1C2
Holiday Hours: we will be closed for Christmas Eve, and also for the entire week between Christmas and New Year. We will re-open on Tuesday, January 3. However, you can still place orders online, and they will be shipped, although shipping is typically slower during the holidays.
Hours (Eastern Standard Time):
Sunday: Closed
Monday: Closed
Tuesday: 10AM to 5PM
Wednesday: 10AM to 5PM
Thursday: 10AM to 5PM
Friday: 10AM to 5PM
Saturday: 10AM to 5PM.We will be closed this Saturday (Feb 25, 2023) for a family gathering. We will re-open as usual on Tuesday.
Telephone: (416)-248-2930
Fax: (416)-248-0415
Directions
From Highway 401:
Take Highway 427 south.
Stay in the collector lanes, and take the Eva Road exit, right after Burnhamthorpe.
Follow Eva Road to the end, where it intersects with The West Mall.
Turn left onto The West Mall.
Follow The West Mall south for roughly 5 minutes, and turn into the parking lot at #133, just shortly after you pass the Canada Post office. The building will be on your left, and we are in unit #8.
From Hamilton/Oakville, via Highway QEW:
Take the West Mall/Evans Avenue exit, right after the Dixie Rd exit.
Go straight through the intersection, onto The West Mall.
Continue on The West Mall, past Queensway, until you see #133 on your right-hand side, just past the car wash.
We are located in unit #8.
From downtown Toronto, via Gardiner Expressway:
Take the right fork for 427/401/Brown's Line/Sherway Gardens Road.
After the fork, stay in the left lane for the Sherway Gardens Road exit.
Turn right onto Sherway Gardens Road.
Turn left onto Queensway.
Continue west on Queensway until you reach The West Mall (just past an Acura car dealer on your right).
Turn right on the West Mall. Continue north until you see #133 on your right-hand side, just past the car wash.
We are located in unit #8.
With public transit:
Take the subway to Kipling Station.
Take the 112 bus.
Get off at the West Mall stop, just after the West Mall Crescent stop.
Walk to the intersection with West Mall, cross the road to the west side of the street, and turn right (south) once you reach the other side.
Walk south for roughly 1km, until you reach #133. You will pass a Canada Post office on your left, and we are in the second building after that.
We are located in unit #8.
Note: the 123F bus stops right in front of our building, but the 123F only runs during rush hour.
GPS co-ordinates:
43.619460 North, 79.561241 West